Archive for the 'Travel' Category
This weekend I'm in San Diego at BlogHer 2011.
In the weeks leading up to this trip, I thought about canceling.  A lot.
But here I am.  I'm here.  And I'm glad.
It was a year ago, at BlogHer 2010 in New York City, that I publicly talked about my life situation for the first time.  Surrounded by people who deeply cared about my well-being, who read between the lines and suspected that something wasn't quite right, I finally lifted the veil.
It was a turning point in my life, and looking back to that weekend, one year ago, I am humbled.
Here I am.
Changed.
Surviving.
Living.
Happy.
Last weekend in Las Vegas, I….
… Formed my own posse since the rodeo was in town. 
Fortunately Ash, Meghan and Ali graciously offered up their husbands Kevin, DJ and Gav so that it wouldn't be a lonely one-woman show.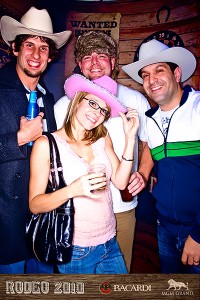 The smiles in the above photo were sponsored entirely by Crown Royal Black.  Those drink ladies followed us around the entire time, pushing their little samples.  Although, now that I think about it, they probably just wanted to join my kick ass rodeo posse.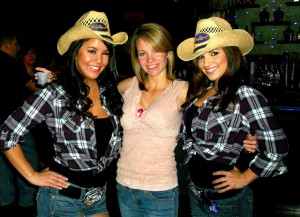 *
… Learned how to lap dance and work the pole at a Stripper101 class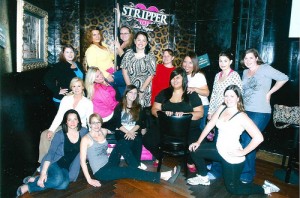 **
… Watched Elvis officiate Brittany and Andy's "I Still Do" vow renewal at the fabulous Rumor Boutique Hotel.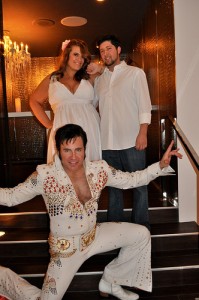 **
… Ate sushi off of a naked geisha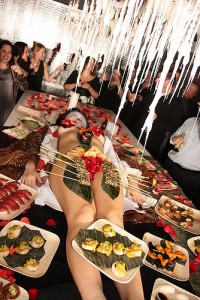 **
and also had the best Sliders on the planet, made by chef Vic Vegas.
… Got to hang out with people I absolutely love, like Maura, Meghan, Greis, Heather and Mike, as well as a few I've only just begun to stalk  adore.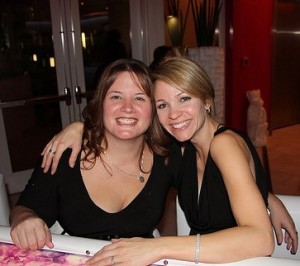 me with Greis **
… Had such a fantastic time.  It was so much fun, and it was all thanks to the lovely women behind Mouth Media.  Heather, Brittany and Shauna: Thank you, ladies!  You throw one hell of a party!
I never even took my camera out of my bag, so photo credits above go to:
* Greis  and  ** MouthMedia / Heather Spohr
Have you ever put your driver's license in your back pocket for easy access?
I have.  In fact, my license spent a good portion of this past weekend cozied up against my tush, while my family and I traveled to Oklahoma and back.
I love my drivers license.  All my previous license photos have been hideous, which I think is the standard, isn't it?  But this one is downright flattering.
I flash this baby every time I get a chance, especially since, as you can see, it's set to expire in just a few short months.
There my license was, tucked safely in my pocket as I took Alison to the airport bathroom on our return trip.  She went, I went.  She's incredibly sweet in that she always covers the automatic toilet flusher sensor for me so I won't get an unexpected hind-end shower.
I stood up.  I pulled up my pants.
Do you know where this is going?  Are you cringing, yet?
The back of my jeans bumped against the front rim of the toilet as I pulled them up. 
My license fell out. 
I watched, in slow motion, as my favorite drivers license fell into a public toilet, a toilet in a major airport toilet no less, full of my pee as well as my daughter's and I couldn't get turned around fast enough to try and grab it as it fell.  
Oh, and there was toilet paper, too, let's not forget the toilet paper.
I was seriously torn between letting the automatic flusher carry my license away and sticking my hand into the toilet to fish it out.
*GAG* *Wretch* *Cringe*
The deciding factor was my vanity.  I have a few more months of flushing flashing that photo before it gets replaced with some hideous monstrosity that will plague me for the next five years.
I fished it out, swiftly, and scrubbed it in the airport sink for at least fifteen minutes, dry heaving all the while.  And when we got home, I soaked it in piping hot bleach water. 
I still don't want to touch it.
I may just go ahead and get a new license, after all.  Because, ewww. 
Just, ewww.  *gag* *wretch* *cringe*
When you were a kid, did your parents ever tell you that your favorite dog went to live on a farm, where he/she was now happily running free like the wind? Well, let me tell you a little something – first of all, that dog was probably dead as a door nail. Second of all, not all dogs are cut out for farm life.

Take our little Lucy dog, who pushed her way into our hearts and lives to the point that we adopted her, instead of finding her a home like we had planned. She's a great dog – smart and affectionate, loyal and sweet. But girlfriend freaks out around large animals. I thought she'd get better about it as she grew, but instead, her reactions got worse.

So, with a heavy heart I made the best decision for her, and found her a loving home with my cousin in Arizona. Who, I might add, had wanted to adopt Lucy for months but I had selfishly declined, planning to keep every ounce of her puppy love for myself.

On Monday I gave her a little spa treatment.



She said good-bye to her big brother, and cuddled up next to him for the last time.


Tuesday morning we got up before dawn and began our journey South. We did things two girls on a road trip usually do.
We saw the sunrise.
We experienced the frustration of being forced to pee in undesirable places.


When we finally found a patch of grass, we took a little break for lunch and a belly rub.




Lucy convinced me to let her out of her crate to roam around the car, and rewarded my confidence by promptly taking a nap. While pretending to be on guard, of course.




After nearly 10 hours on the road, we arrived at our destination: a park in the little town of Blythe, California. When I saw Blythe on the map, I couldn't resist making it our meeting spot. Now I can tell Blythe I've been to "her" town.

We played and had a snack while Lucy bonded with her new family.

Eventually, it was time to say good-bye. I stopped being the mommy and became the auntie.

Lucy loaded up in my cousin's car and we waved as we drove in opposite directions. She's off to start her new life, where she's being spoiled with a big yard, a pool, constant affection and indoor privileges, nary a pig or cow to be seen.

I drove off into the sunset, alone in a quiet car, no wet nose rubbing against my elbow.

A few hours later I arrived at the home of Heather and Mike Spohr in Los Angeles, where I got to meet the world famous Maddie Moo.



Maddie is even cuter and smilier in person than she is in pictures – something I didn't think was possible. Their little dog, Rigby, brought her boyfriend Mordecai out for a little XXX show, but she must have gotten stage fright and abandoned him on the living room floor. I admit, I was a little disappointed.

Before too long, I took Maddie's cue and went to sleep. After driving 850 miles in one day, I don't think even an earthquake could have woken me up. The next morning, I drove the final 450 miles home to my girls, my husband…

And life on the farm without Lucy.

*Today's post on Sexy Makes a Comeback: Daily Make-up.*
X Arm is a brand new, never before seen Extreme Sport created by Art Davie, the co-founder the world-famous UFC. It's a crazy combination of Arm Wrestling, MMA, Boxing and Kick Boxing.



Art Davie, hamming it up with Natasha and me

Running the program are Tedd Williams, founder and promoter of the Gladiator Challenge MMA events, Cal Worsham, all around bad-ass, and Cobra Rhodes, arm wrestling legend.

The X Arm fighters were each hand-picked and invited to attend one of two boot camp sessions at the American Sports University in San Bernardino, California. One month later, they converged on the spot for the tournament on a closed set, along with a few select guests to make up the audience.

It was a spectacle, to say the least: great moves, several amazing knock outs, unbelievable submission attempts, ingenious strategy as well as buckets of sweat, a few splashes of blood, and even a couple of broken bones. All that, jammed into three, 1-minute rounds per fight. Action packed? You bet your ass it is.

GO HERE to catch a glimpse of the promo for the first episode of the X Arm reality series, which will cover the event from boot camp through the championship round. It's going to air on RipeTV.com (I'll post a link each time a new episode is up) as well as on Comcast Cable -> On Demand -> The Cutting Edge, starting in late October.

Episode One aired October 23rd: Bootcamp Day One.

Who ARE these athletes, you ask? Well, aren't you lucky I was taking notes! The faces of the X Arm premier event are Ivan Gatoloai, Steve Walston, Rick Cheek, Fredrick Steen, Homer Moore, Justin Del Mugnaio, Bond Laupua, Rick Vardell, James Cordrey, and Andy Flennay. Also on hand are Dave Huckaba and the always entertaining Tyson Johnson.

Fierce? Yes, they are. But even more amazing, to me, anyway, is that all the fighters and their corner men were kept together for four days, and rather than hostility, there was a serious camaraderie. Having been behind the scenes at plenty of MMA/Cage Fighting events, I was really pleased to see that every single one of their heads could fit in the breakfast room at one time.

Not only that, but some wonderful friendships were made, strategies traded, and work out partners created. Natasha and I? We laughed until our faces hurt. And then we laughed until our stomachs hurt.

Because, apparently, this combination is even funnier than its individual parts:




Rick, Cobra Rhodes, Dave Huckaba and my Jeremy

And then when you go adding these two to the mix:



Cal Worsham and his wife
(hello Andrea's glass of wine! you look so lonely amongst all those beer bottles)

You've got more side-splitting laughs than an all-star comedy show. Luckily for me, there weren't any laughter-induced bladder control issues.

WHAT? You STILL haven't clicked over to watch the promo? Well here you go, lazy: X Arm Promo. When you're done, come back here and tell me what you think. Right up your alley? Too gruesome for you? Have questions about the event? Want me to give Tedd and Cal your demo for the X Arm event in January 2009? GO!

* If any of you X Arm peeps would like me to change your link, email me at Jerdre53(at)aol(dot)com. And while you're at it, leave a comment so we know you were here! *