Archive for the 'Special Needs' Category
Note: I realize this topic gets people riled up – all I ask is that you read to the end before commenting.  Thank you!
—–
I've kept my mouth shut and my fingers still as the vaccination battle has raged and burned anew here in California and elsewhere across the nation over the past several weeks.  I've read articles, observed heated debates, seen some people show compassion and others spew hateful venom.
I read the heartfelt plea for parents to immunize, penned in the 1980's by beloved author Roald Dahl who lost his young daughter to the measles in 1962.  My heart hurt when I saw photos of the infant infected with measles by unknowingly being in the waiting room of a doctor's office with an unvaccinated child whose parents didn't know what was wrong.
Sitting silently here at home, I felt empathy for both sides of this passion-filled argument because I am a mother who is not at all sitting on the fence between the two – I occupy both sides at the same time.
My eldest child is fully vaccinated and my youngest is not.  With a family history of having severe reactions to high doses of medications, ~ For example, I went into anaphylaxis from a large dose of Benadryl at age 5, and ever since, have been allergic to the medication doctors give in order to control allergic reactions.  Irony, anyone? ~ I chose to break 11 year old Ali's immunizations into one and two dose applications over a series of appointments when she was little.  Sure, it meant more trips to the doctor and more co-pays, but her doctor, who had also been my physican for a number of years, agreed that it wouldn't hurt, especially if it calmed my worries and kept her safe.  It seemed to be a very reasonable compromise between vaccinating and not wanting to harm my child with overexposure.
When Blythe came along, our insurance coverage was with an HMO that would not allow me to break up the inoculation schedule.  I offered to pay for the office visits myself and even the vaccinations, if necessary, but they refused.  When I then said I would take my two month old baby to see our former doctor and just pay out of pocket, they wouldn't let me leave.  By the time they finally coerced me into allowing them to give her the full set of shots, the room was filled with several nurses and every pediatrician on staff, all of them telling me I was endangering my child.  Although they never threatened to call child protective services, they let me know that they all felt my parenting was not only questionable but negligent.
On that day, I allowed medical professionals to bully me into ignoring my maternal instincts, and I have made sure to never let that happen again.
The problems that began shortly after that couldn't be directly tied to the vaccinations at the time.  Blythe was fussy and had a weird rash, she had screaming fits, her body would tense up and her eyes would bug out, but then she would be fine.  The doctor's office said she had colic and eczema, and when the majority of the symptoms faded after a week or two, I felt okay about letting them give her the full course of shots.  Crisis averted, I was just an overprotective mother worrying for nothing, right?  Little did I know that her Central Nervous System had reacted to the preservatives in the vaccines and was on the verge of waging war on my sweet baby's body with the slightest provocation.
I delayed Blythe's second set of immunizations by a few weeks because we were celebrating my 30th birthday with friends and family, and would be traveling.  At 5 months old she was still having occasional screaming fits, but was otherwise a healthy, happy baby, developing on or ahead of schedule in every way.
And then.  I took her for her second round of vaccinations and our world spun upside down, around and in any possible direction other than right side up.  It remained that way for the next three years and I lived every moment of every day with the knowledge that I allowed my child to be injected with something that acted as a catalyst for more pain, more heartache, more turmoil than a child ~ any child, mine or yours or that kid over there, even the one who acts like a complete asshole half the time ~ should ever have to endure.
My point is this: We all love our children.  We want the best for them, to keep them safe and healthy and happy. The great majority of us would never knowingly do anything to cause harm to our babies.  Only two percent of the population has an adverse reaction to vaccinations, most of them mild, and that is an amazingly low rate, especially when we consider how many people, scores of them children, died or had long term complications from the illnesses that these vaccinations not only protect against, but have nearly eradicated in our modern world.
But.  But…  When your child is in the two percent; when it is your child whose body is tortured every day from within and there is nothing you can do to help or soothe; when your softest touch brings her pain; when her health problems increase with regularity and a flu that any other child would get over in 24 hours is life threatening; when she reaches an age where she can speak and describes the way she feels as being on fire inside; you can't help but relive that moment in your mind – that moment when you held your happy, healthy baby on your lap and watched her get her vaccinations ~ created to keep her healthy! ~ and as much as you want to, with every fiber of your being, you know that you can't take it back.  You can't travel back in time and do it a different way, or not do it at all, because even that would be a better choice than this living hell; you just watch your child live with the pain.  And you?  You live in fear because danger lurks everywhere, threatening to take her from you without a moment's notice.
Close your eyes for a moment and imagine that life for your child, and for yourself, and before you come back to reality, take a deep breath and be thankful that your child is among the 98 percent.  You don't ever want to know what it's like on the other side.
If you were to meet 7 ½ year old Blythe today, or for those of you who know her, to just observe her now, you would never suspect that she is the child I described above.  Believe me when I tell you that I gave the slightest, most gentle description of what life was like for her.  For us.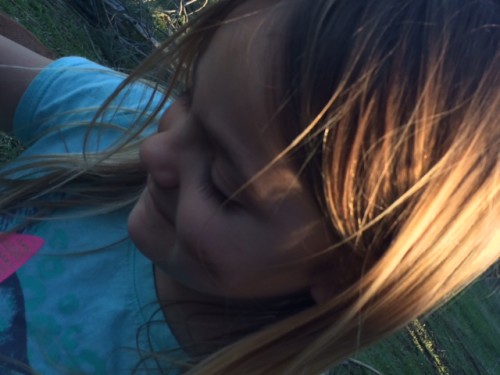 Blythe is among the few who have been able to make a full recovery, after some other underlying health issues were discovered and managed.  She is, once again, the happy, healthy child I held in my arms so many moons ago.  In the years now that she has been well, I have made sure to thank my lucky stars on a daily basis for this opportunity to have a second chance at keeping her healthy.
I've wrestled with the choices several times over the past few years – should we take a chance and try to inoculate her again, now that she's healthier, older and stronger?
Would it be safer for her to have a known thing – the vaccinations – in her allergist's office so that we could hopefully deal with the possibility of anaphylaxis quickly enough to keep her health from plummeting back down into the abyss?
Or would it be safer to hope that she won't come into contact with the illnesses the vaccines protect against and not risk purposefully pushing her into that fiery inferno that we both remember so well, that still haunts our dreams, even now?
But here we are with a measles outbreak.  Blythe is still unvaccinated and is at significant risk.  Her half-sister is three months old, too young to be vaccinated, and we have her to think about, as well.
I can see both sides of the argument.  The protective mother of a child who medically could not be immunized rages at the fact that parents who chose not to vaccinate for non-medical reasons have allowed our herd immunity to break apart in such a way.  I am relying on you, village, to help protect my child and you are doing a shitty job of holding up your part of the bargain!
On the other hand…. I do know what an adverse reaction to vaccines can bring.  I have seen it and lived it and watched my child suffer, and wished a billion times that I hadn't let her be fully immunized that day.  If I had known what could happen, ~ what could really, really happen ~ to my child, I would have feared it, too, more than anything I've ever feared in my life.
Which brings me to my final point.  Blythe and I, along with the other parenting figures in her life, have decided that she needs to be vaccinated.  At this point in time, the risk of catching and/or spreading a life threatening disease is too great.
Can I take a moment to tell you how wonderful and brave my 7 year old daughter is?  And can I also tell you that for the past few weeks, as we've discussed this choice amongst ourselves and with her doctors, I have not been able to take a full, deep breath because my heart has taken up residence in my throat?
I am terrified.  I know what can happen.  I didn't read it in an article or see it on television or hear a story about someone's roommate's brother's friend's baby.  I saw it with my own eyes and lived with it.  And yet, we are going to vaccinate our child because it's what's best for her, and for the rest of the population.
Talk about taking one for the team.
For those who have not vaccinated out of fear of what may happen, or because of previous adverse reactions, please know that there are Pediatric Allergists out there who have developed allergy tests for each and every vaccination.  Blythe will undergo an allergy test prior to every inoculation, which will be administered in the allergist's office, one at a time.  If the tests indicate an allergy to any one of the traditionally used vaccination formulas, though, we still have options!
Organic vaccines with no preservatives (which are what cause most problems) are now available, and although they can be quite expensive, an allergic reaction to the test means that insurance companies must cover them.  They are mixed and kept on ice as they are overnighted, and must be administered within 24-48 hours of their creation.  Today, right now, in this privileged, scientifically advanced world we live in,  there is no reason for healthy children* to remain unvaccinated.  Research and find a way.  If I can do it, you can, too.
When I broke the news to Blythe that the allergist's office could absolutely get her caught up on vaccinations and could also make certain she wouldn't have an allergic reaction (as opposed to attempting to treat a possible reaction), she gave me the biggest smile I've ever seen, threw her arms around my neck, and together, we cried.
Of all the tears we've shed over this battle in the past 7 years, at last… we are crying tears of joy!  The world is finally hers.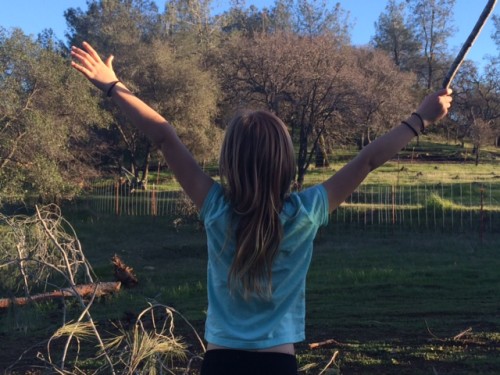 *I specified healthy children because there are some with medical issues and compromised immune systems that would not be able to handle immunizations of any kind.  These are the kids we need to help protect!
Ali asked me a question about her toddlerhood recently and I looked at the archives here on the ol' blog in order to reference exactly when the incident she was curious about occurred.  That resulted in me getting lost in my archives, reading about things that I know happened, but didn't remember very clearly until I read what I had written about them.  That made me realize how important this space is – not to social media, or to other people who may or may not want to read what's written here, but to me, and to my girls.
I've had a hard time writing over the last couple (few??) years.  I think it's because I'm just not sure about my voice, about what's ok to discuss in a public forum, about whether or not people I would prefer didn't read my words are coming here in order to read what I have to say and hold it against me.
I want to preserve my memories.  The words I use to describe them don't have to be particularly eloquent or creative.  My voice doesn't have to be sure and seasoned.  And if those who would choose to use my words against me come here to read, I have to believe that my true character will always shine through, and that I have nothing to apologize for.
So.
———-
I want to write about Snowstorm, because I don't ever want to forget.  At this point in time I tend to think that's not possible, but reading through my archives and realizing how much slips through the gaps of my memory, I need to put this experience into words.
If you are squeamish, I apologize.  This is for me – graphic detail about what I experienced, so that years from now, when Blythe asks me what happened and I feel she can handle it, I will share my memories with her.  Or maybe not, I guess we'll just have to see.
In the summer of 2010, shortly after Blythe turned 3 and was still in the throes of her myriad medical issues, she was in the habit of waking up at ungodly hours, unable – or unwilling, it would sometimes seem – to go back to sleep.  On a warm day in July of that year, she woke up before the sun.  I decided to lay down with her in her bed in hopes that she would (please god just let her, just this once) go back to sleep.  But eventually she heard her father stirring around the house.  We owned a construction company whose shop was on our property, and with the summer heat we had the crew starting just after sunrise.   Darling little Blythe heard her dad leave the house and was intent on taking a walk down to the shop to wish him a good morning.
Just to be clear, while the child regularly woke up – and stayed up – during the night, she had never requested that we walk down the dirt road to the shop when it was barely light outside.  This was an isolated incident, one that was never repeated, so it's especially significant that we happened to walk along the road that day.
On our short walk between our house and the shop, we saw something white in the middle of the dirt road.  At first we thought one of our crew had dropped a t-shirt or a rag, but upon closer inspection we discovered a tiny little white kitten.  His eyes and nose were so thickly coated with crusted mucous that he couldn't open his eyes to see, nor could he smell.  For all intents and purposes, the tiny little helpless kitten had laid down in the road to die, and the ants and fleas had already started to treat him as a corpse.  Had we not taken a walk at that particular time on that specific day, he would have been run over by one of our crew heading out to work.
Blythe got to him first, and begged me to save him.  A lover of animals, I had rescued many a cat in my time.  I quickly sprung into action.  I took off my sweatshirt and wrapped him up in it, rushing him back to the house where I cleaned the bugs and mucous off of him the best I could with warm water.  He never made a sound, never fought me.  I thought for sure he would die.
A few hours later, our veterinarian gave me somber news.  The kitten was infested with pretty much every parasite known to felines and would have to be quarantined for a minimum of three months.  He was severely dehydrated and malnourished, and had an eye/ear/nose/throat infection that was so severe that it indicated a permanent, incurable condition was present.  I would have to give him subcutaneous saline injections, and if he wouldn't eat – which was pretty likely since he couldn't smell – I would have to force feed him and hope that he would eventually eat willingly on his own.  The prognosis was not good.
I can't begin to explain to you about the rapid rate at which Blythe's health, behavioral and emotional issues were gaining momentum at that particular time.  It was as though every moment of therapy that brought improvement in certain areas gave birth to new issues, new problems, new hurdles.  Her sensory processing disorder, which seemed to be getting better in so many ways, was simultaneously getting worse in new, stranger ways.  Her behavior and emotions – ruled by her innate feeling of being on fire inside – were at times overwhelming, for both of us.  To be perfectly honest, I was afraid.  Afraid that I couldn't keep up, couldn't help her, that we were losing ground faster than we were gaining it and that the daily battles we were fighting were going to result in a lost war.  Not to mention that my marriage was spiraling crazily out of control and my husband was behaving like a paranoid delusional lunatic, but I digress.
The magic that happened between Snowstorm and Blythe is indescribable.  His soft, gentle spirit calmed her inner fire.  His fragility, his need to be saved brought out in her a side I'd never seen.  She was willing to endure whatever sensory discomfort was necessary in order to help him.  He was so close to death, and she chose – at three years old, this child chose – to put his needs above her own, every day.
To be sure, we saved his life – she saved his life – but he saved her, too.  He was the most amazing, sweet, tolerant, loving cat I've ever known and while he loved the rest of the family, too, the bond between Snowstorm and Blythe was like nothing I've ever seen.
We saved him from certain death in the middle of our gravel driveway in July of 2010 and so, when I found him in the middle of yet another gravel driveway of a different home in January of 2014, I couldn't help but think to myself, later, that some force in the universe must have made it so.  We were granted his presense in our lives for that short period of time, but it was a fluke.
I replay that day in my head so often.  The cats are only allowed outside during the day and we open the bathroom window because it has a slit in the screen for them to go in and out.  It had been cold, and a little rainy, so the cats hadn't wanted to go out.  We were on our way out the door for school and Snowstorm had planted himself in the middle of the doorway.  "Do I want to be in or out?" he seemed to wonder, as he looked up at me.  We were running about 3 minutes behind schedule.  I nudged him out the door and hustled the kids into the car.  As we got buckled we laughed about how he always rolled around in the dirt right where Hank, our dog, peed when we let him out in the morning.
January is a busy month for me, and I admit that when I got back home an hour later, I didn't even think about the fact that Snowstorm was outside.  I didn't call for him, and I didn't open the bathroom window.  I just came home and got to work.  Before I knew it, my alarm was going off and it was time to pick up the kids.  Nathan had left for the winery, which is just down the road from our house, an hour or so before.  Usually he and Hank walk, but this time he drove, because he had to haul some equipment over.
Whether Snowstorm got caught up in his truck then, or whether he wandered over to the winery and got caught up in there later, we'll never know.  But when the girls got home from school and couldn't find him, all three of us were in a panic.  We called and called him – yes, we have trained our cats to come when called – and he didn't come  home.  Nathan said later that he could hear us calling for Snowstorm from the winery and wondered what was going on.
A short while later, Nathan left the house for wrestling practice about five minutes before us.  Normally, we all drove together, but we'd been having some trouble with Blythe's enthusiasm for wrestling and our compromise to get her to see the season through was that I'd take her to wrestling, but we didn't have to stay for the second session for older kids.  Nathan was the coach for both sessions, and wrestling nights often had us at practice for three full hours.
Snowstorm was lying in the middle of the road, still as can be.  My headlights found him and I was the first to see that there was something white in the road.  I told the girls to stay in the car and went to him.
He was still alive.  One of his back legs was badly mangled, and the side of his skull that laid against the ground was crushed.  His breathing was labored and as I petted his soft, silky fur, his tail moved.  I had been trying to block him from the kids' view, but they saw the swish of tail and knew he was alive.  I didn't want them to see him this way – so very near the brink of death, with blood and bits of brain matter soaking into the gravel beneath his head.  I didn't know what to do.  Here he was, this wonderful member of my family fatally injured and yet not able to die, and my kids watching from the car.
Not knowing what else to do, I tried to strangle him to put him out of his misery.  In the movies and on television, strangling looks so easy – he was so small compared to me, and so near to death, I thought for sure I could do it.  But he wouldn't die.  His broken body struggled for breath and I could not end his life.  I could hear Ali and Blythe crying and screaming from the car.  Ali was yelling, "Do something!!" and at the time I thought she was talking to me, but she explained later that she was talking to God.  In the lessons they've learned at the church their dad and his girlfriend take them to, God will answer your prayers if you're pure of heart and deserving.
They haven't yet forgiven "God" for finding them and dear, sweet Snowstorm, undeserving.
The girls called Nathan from my phone, which was in the car, and he came back.  By the time he arrived, I had wrapped Snowstorm in a towel to transport him back home and on the short ride, he passed away.  I held him in my arms, swaddled like the sweet angel baby he was, while Nathan dug a hole in the backyard.
He is not the first cat I've had to say good-bye to.  But his death was by far the hardest one I've had to deal with.  I feel so terribly responsible.  I neglected him on that day, the only day I've ever neglected him, and he died.  He died a horrible, tragic death and all we can figure is that he crawled up inside the drive train of Nathan's truck to try and stay warm and got stuck.
Blythe cries for him all the time.  Our kitten, Zeus, who was supposed to be mine since my cat, Eema, passed away a year ago, has gone out of his way to be sweet to Blythe.  I told her that Zeus could be her cat, and she's thankful, but he isn't Snowstorm.  No one ever will be.
He was her knight in shining armor.  He saved her when nothing I, or her counselors or doctors or specialists did seemed to work.  He was kind and sweet and loving and gentle and now he's gone.  So terribly, tragically, permanently gone.
And our hearts just can't seem to heal.
There's no way to know, for sure, which of Blythe's special needs were caused by meth exposure.  It's very possible that some of them would have occurred anyway, regardless of meth's presence in her life.
The drastic improvements, though, tell me that at least some of them could be common among meth exposed kids, and so I'm going to discuss each of them, and the things that helped us to cope with them, one post at a time.
CSF Pockets:
Until recently, Blythe had two lumps on her head that were pockets of Cerebrospinal Fluid, trapped between her scalp and her skull. 
Most of the time, they weren't noticeable to anyone who wasn't looking for them, although they would often swell with major changes to the barometric pressure in her environment.
Any time the pockets would expand, or if the one closest to the base of her skull would shift to the area directly above her spinal cord,  she would get terrible CSF headaches.  A lot of times she would just be especially cranky during the day, but when she would lay down to sleep at night, the pressure would become extreme and cause her an immense amount of pain.
There were also times when the pressure from the lumps would cause her to have some random symptoms of neurological problems, such as blanking out for short periods of time, or aphasia, where she would use the wrong words for things without realizing her mistakes.
One time, she asked repeatedly for "Bar-be-que" and got very upset with me for not bringing her the ice she was asking for.  Good times!
Managing the CSF pockets was all about preventative maintenance in the form of daily therapy.  The first step was to locate the pockets, which was fairly easy given that I could feel the lumps with my hands.  Sometimes heads are just naturally lumpy, though, so to confirm that a particular lump was a pocket of CSF fluid rather than anything else, I used what I refer to as The Reverse Stud Finder Test.
With the pointer and middle fingers pressed firmly together, a firm tap to the head would normally sound solid, as it would when tapping a stud.  A tap landing on a pocket of CSF, however, sounds hollow, the way a wall sounds between studs. 
The daily therapy involved tapping the lumps, off and on, for about ten to fifteen minutes.  When I kept up with the therapy, the taps didn't hurt at all, and would actually release endorphins that put Blythe  in an incredibly good mood when the session was over. 
If I skipped days, though, or if the lumps had expanded for some reason, the initial taps were painful and she fought them.  I've been smacked, punched and yelled at more than a few times.  What I would typically do, in that situation, was to engage her in some sort of activity and do one tap every few minutes until the pressure dissipated and she stopped protesting.
Most of the time, whenever I told Blythe it was time for taps, she would climb into my lap and allow me to do the therapy without any problems.  Occasionally, she would even ask me to do her taps, or would grab my hand and guide it to her head.
It's strange for me, now, to massage her head and not feel those familiar lumps that were a daily part of our lives for so long.  I still watch for them, just in case, but it seems that they have disappeared along with so many of her other symptoms.
This is very hard for me to say, but here I go.
My daughter is two different people.  Her self, and her other self.
One of them, the one I feel is the real Blythe, is sweet, loving, charismatic, smart and articulate.  She is so incredibly amazing, and when I see her, when I spend time with her… I just can't get enough.  I am so in love with her.
The other one, though.  This is so hard for me to admit thinking about my own child.  The other one is a child I don't like very much.  When I see the signs of her eminent arrival, I start to feel a little sick inside. 
The thing about it, is when that other child takes over, I know my baby girl is in there, somewhere, fighting to get out.  It's for her that I have patience with the other child when she appears.  It's for her that I don't give up.  I fight for her as long as it takes, and when I see the real Blythe emerging, I know that everything I do is worth it.
Have you ever seen The Exorcist?  Well, it's kind of like that, only without quite so much gore.
Over the past couple of years, doctors and various types of therapists have listed the different diagnoses they would have given Blythe, had they only seen her as her other self.
A few:
Since Blythe stopped being exposed to meth in early October, I've seen that other child a lot less often.  In fact, I haven't seen her in over a month, and even then she stayed a very short time and wasn't really all that awful. 
It was the marked improvement in her health as well as the decrease in visits from the other child that prompted me to look into whether or not meth exposure could be responsible for Blythe's "issues".
What I found, in doing that research, is that most children who are exposed to meth are like Blythe's other self all the time, and I couldn't find any information on how to help them to get better.  It's so sad to think about those kids, who never get to be their real selves.  They are trapped inside those other personalities, fighting to get out, just like Blythe was.
They are the reason I'm committed to writing about our experience with meth exposure.  It's for them that I'll post everything I possibly can about what worked for Blythe, even though at the time I didn't realize I was dealing with a meth exposed child.  If even one child benefits from her story, it will be worth the effort.
Every child deserves a chance to be who they are… not what meth exposure made them.
Thank you all so much for your support and encouragement on my last post, where I talked about learning of Blythe's exposure to methamphetamines.
I realize that it's not my fault for not knowing she was being exposed, but I can't help but feel a lot of guilt, anyway.  I do feel as though I failed to protect her, but I also know that I did everything I could to keep her safe.
For the majority of Blythe's life, the world at large has been a danger to her.  Every time we ventured out, we were taking a risk.  Everything she touched, away from home, had the potential to send her into anaphylaxis.  If she so much as leaned her cheek against the counter at the pharmacy, her face would swell within minutes.  That's just a glimpse into what life was like for her.
I always did my best to keep my fear at bay, but I think I was able to do that, in large part, because our home was safe.  If the world was a battlefield, home was our neutral ground, where we could let down our guard and live like normal people.
I could spend hours telling you all the things I've done, over the years, to make sure our home was a place where Blythe could just be a kid, without worries.  All the research I've done, the ways we've altered our lives to provide the best possible environment for her to grow up in. 
So, to learn that she was being exposed to methampetamines, right here at home, the one place on this Earth that I thought was safe for her…  I can't explain how it felt, other than to say it knocked me down in a way nothing in my life ever has before.
I worked so fucking hard, every day, to give her a place where she could be an innocent kid.  I did fail to provide that for her.  Through no fault of my own, obviously, but it's a failure, all the same.
I was really, really angry.  My home didn't feel like home anymore, it felt like a toxic waste dump.  And I place a lot of blame squarely on the shoulders of the person who was responsible for her exposure, where it belongs.
But I also know how much he loves our daughters, and if he had known it was his addiction that was making her sick, I like to believe he would have done something about it.  It's hard to know, for sure, given the nature of addiction, but I have to try and believe that, for my sanity.
I'm trying to keep my focus on the now.  Since she has stopped being exposed to meth, her health has improved remarkably and dramatically.  It's fantastic and amazing, and gives me so much hope for her future. 
For that, I am so incredibly happy.