Archive for the 'Blogging Business' Category
This weekend I'm in San Diego at BlogHer 2011.
In the weeks leading up to this trip, I thought about canceling.  A lot.
But here I am.  I'm here.  And I'm glad.
It was a year ago, at BlogHer 2010 in New York City, that I publicly talked about my life situation for the first time.  Surrounded by people who deeply cared about my well-being, who read between the lines and suspected that something wasn't quite right, I finally lifted the veil.
It was a turning point in my life, and looking back to that weekend, one year ago, I am humbled.
Here I am.
Changed.
Surviving.
Living.
Happy.
Last weekend in Las Vegas, I….
… Formed my own posse since the rodeo was in town. 
Fortunately Ash, Meghan and Ali graciously offered up their husbands Kevin, DJ and Gav so that it wouldn't be a lonely one-woman show.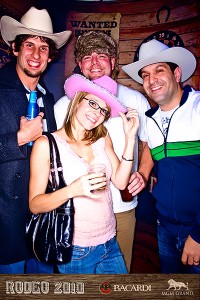 The smiles in the above photo were sponsored entirely by Crown Royal Black.  Those drink ladies followed us around the entire time, pushing their little samples.  Although, now that I think about it, they probably just wanted to join my kick ass rodeo posse.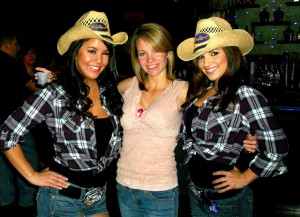 *
… Learned how to lap dance and work the pole at a Stripper101 class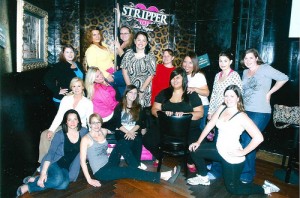 **
… Watched Elvis officiate Brittany and Andy's "I Still Do" vow renewal at the fabulous Rumor Boutique Hotel.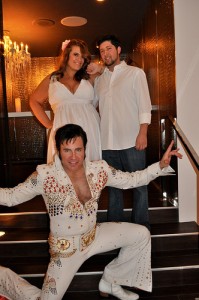 **
… Ate sushi off of a naked geisha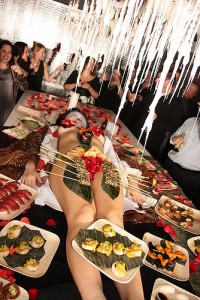 **
and also had the best Sliders on the planet, made by chef Vic Vegas.
… Got to hang out with people I absolutely love, like Maura, Meghan, Greis, Heather and Mike, as well as a few I've only just begun to stalk  adore.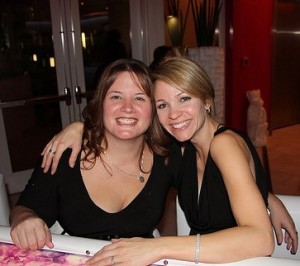 me with Greis **
… Had such a fantastic time.  It was so much fun, and it was all thanks to the lovely women behind Mouth Media.  Heather, Brittany and Shauna: Thank you, ladies!  You throw one hell of a party!
I never even took my camera out of my bag, so photo credits above go to:
* Greis  and  ** MouthMedia / Heather Spohr
I have a secret.
Come closer and I'll whisper it, softly, in your ear.
You are amazing. 
Do you know that?  Do you believe it?  You should. 
I just spent 5 days immersed in your teeming masses and I can tell you, my community, my people, that you are nothing short of spectacular.
There are a lot of people out there who believe that because you don't have a location with precisely mapped borders, you aren't real, and so they discount you as not being valuable.
But you are.  You are to me.
Look at the way you bring people together. 
Do you realize that without you, some of us would be completely isolated?  We may as well live in Antarctica for all the comfort and support our geographically appointed communities offer.
You make a difference in so many people's lives, all over the world.
Let me say it again, louder this time.
You are amazing.
Don't let anyone tell you otherwise.
————-
A big huge thank you to the BlogHer team for putting on a fabulous conference in New York City this past weekend!  I am filled to the brim.
Here I am, in my new home!
Don't mind the boxes, or the echo you hear as your feet hit the hardwood.
It's an adjustment, moving. Declaring 'I'm Home!' as I walk into unfamiliar territory, all the while feeling inspired, excited, and anxious.
Home. It's where your heart is, they say. Where you can feel comfortable, with your toilet paper roll hung exactly the way you want.
I hope that's what Life on a Tightrope becomes for me. I love my old home at The Sweet Life, but I felt stifled there. Like I was a visitor, or better yet, a tenant who owed back rent and who had made more holes in the walls than was allowed.
I know my life is sweet. I know that. There it is on paper: life is good! Appreciate it! Count your blessings!
But I'm darker than that. I don't wake with the dawn and sing songs along with the birds. And so, writing there made me feel somewhat fraudulent. Like I couldn't freely say, 'dammit, life is hard sometimes!' because is that what you say when you've declared to the world that life is vanilla bean sweet?
For the past three years, I've tried to write what I think people would want to read at a place called The Sweet Life. I've been writing authentically, yes, but what I really want to do, is write what crosses my mind as I let the steaming hot water run rivulets down my spine in the shower. What dwells in the deepest part of my soul when I go through one of my rough patches.
My life is the tightrope – sometimes narrow, sometimes wide, always hanging over a deep chasm promising to swallow me whole if I fall. Here, I will talk about finding my balance.
The wonderfully talented Jenn created this beautiful space, just for me, and she captured me perfectly. Thank you, Jenn, a hundred thousand times, thank you, and it still wouldn't be enough.
I can't even put into words how amazing it feels to be here… to be home.
At last.