Welcome to Life on a Tightrope.
I'm Dre.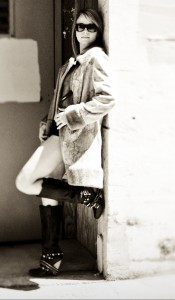 I read, I think, I write, I drink wine.
Chaos brings out the quirks in my personality.
You may be wondering, "Do you drink your wine from a paper bag in that alley you're standing in up there, half naked?"
The answer, my friend, is: No, but maybe now is a good time to start.
If you've been a reader of mine in the past, you may wonder why I moved from The Sweet Life.  It's simple, really.  For three years, I tried to write what I thought people would want to read at a place where life is supposed to be vanilla bean sweet, but that's not who I am, nor is it who I want to be.
In reality, for a while there my life was a tightrope – sometimes narrow, sometimes wide, always hanging over a deep chasm promising to swallow me whole if I fell.  Here, at Life on a Tightrope, I talk about finding my balance and surviving some of the challenges life sent my way.  In time, I hope also to freely talk about the joy I've found in the vineyards of the beautiful Sierra Foothills of California.
I live with my daughers, Ali (11) and Blythe (7), my husband Nathan, our Chiweenie Taco-Murphy, and our 2 cats, Zeus and Happy.  As a family, we make wine, live simply and love deeply, savoring every moment.
Thanks for visiting, and let me know if you'd like a swig from my paper bag at:  meatfordinner (at) gmail (dot) com